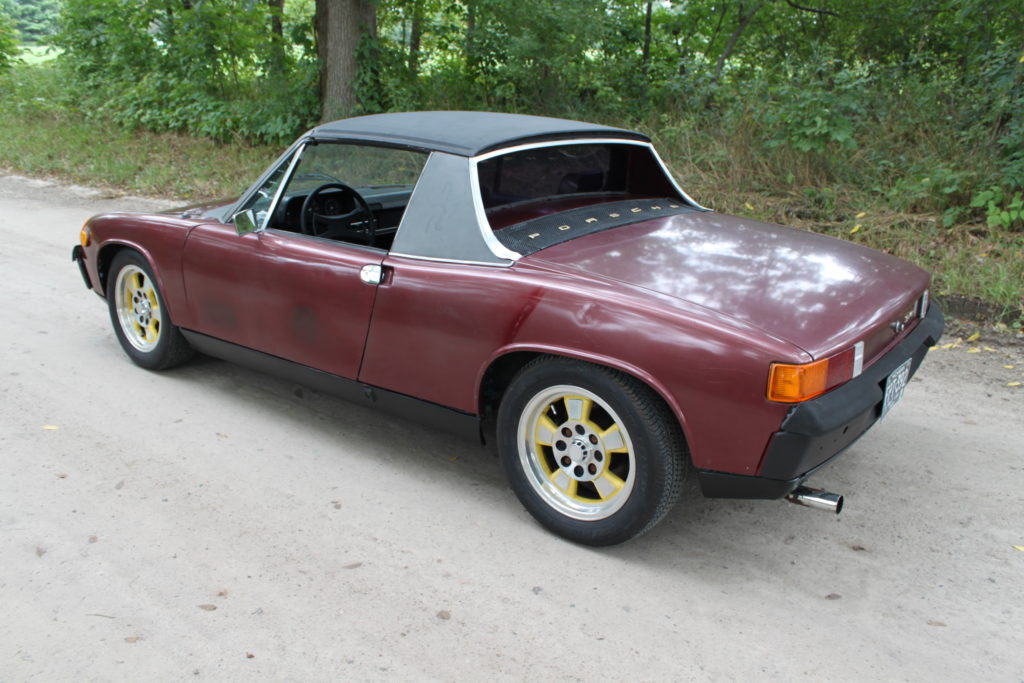 For sale: $4,750 or best offer.
Purchase May 31, 2016 from West Lafayette, Indiana
Overview:
1974 Porsche 914 1.8 non matching motor
L-Jetronic fuel injection works great
VIN# 474 292 8559
Local car bought in Indiana by previous owner but no history
Original color is Olympic Blue, paint code L51P
Accident damage to front driver corner, repaired ok, repainted metallic brown
Some dent repair to driver and passenger doors, filler can be seen through drill holes on inside
Dash is cracked, currently covered with plastic dash cap
Car is structurally sound with no rust in hell-hole (underneath battery) or in rockers/sills or floor seams
Rocker jack point need to be replaced
Rear trunk has rust hole
Doors open and close well
Work Completed:
Clean title in my name
1974 authentic Michigan plates added
See Restoration Wednesday posts with ongoing updates on the project click here
Engine:
Trouble shot and rebuilt fuel injector wiring harness (thanks to Tim from 914 World) with patched wiring and new injector clips. Link here to the 914 World forum with the back and forth
Wired the fuel pump back to original specs, fuel pump working correctly, full pressure at rail
All fuel injectors tested and spray correctly
Replaced all vacuum lines
New spark plugs, NGK hotter plugs
New spark plug wires
Hot spark ignition replacing points
Adjusted exhaust and intake valves to .006″
Added gray powder coated valve covers
Moved ground from fan shroud to engine block
Pulled both heat exchangers, filed connection tips flat, added copper gaskets, reinstalled with new studs or nuts (4 of 8 were missing)
Replaced muffler with Bursch exhaust that was on a previous car
Car hesitating at high RPM and back fires on deceleration. Distributor hanging up.
Wiring:
Opened wiring harness from tail lights to fire wall and replaced ground wire, then wrapped up
New fuses in fuse panel
Missing relays replaced in panel
Rebuilt turn signals lights up front
Redid side marker lights added new gaskets from 914 Rubber
Rewired head lights and cleaned grounds
Headlights added and hooked up, added white used surrounds
Fixed burnt wiring in tail lights
Fixed cut wires and reconnected brake lights at pedal cluster and fuse panel
Added missing turn signal relay
Headlights, tail lights and turn signals work
No horns
Exterior:
Replaced targa top
Replaced front hood springs, added cad plated release and catch hardware, new front hood seal
Repaired rear trunk lid shocks so lid stays up
Adjusted trunk to shut tight, added cad plated catch
Adjusted rear deck lid and trunk lid so they don't interfere with each other when opening and closing
Front bumpers painted flat black, bumperettes removed
All lower valances removed and painted satin black, cosmetically they look pretty good but are rough on close inspection
Replaced black plastic side mirror with correct OEM chrome one, passenger side has two big holes from old mirror
Replaced tail light assemblies with good ones
Added European tail light lenses
Interior:
Added chrome door handles inside along with chrome window cranks
Added driver side door pocket and passenger side "pocket" under the arm rest
Cleaned paint over-spray around inside door hardware
Secured bottom dash pad that was held in by two of seven screws
Replaced seats with good condition ones that still have some nicks
Replaced door cards with black vinyl with no speaker holes
Added the one nut between the door sheet metal and window regulator so the driver door handle would screw in place, this took almost 30 minutes to get that silly nut in place
Cleaned carpet and glued some pieces back in
Covered radio hole with new basket weave vinyl
Removed window tint on front windshield and side glass
Bought new horn ring rubber for steering wheel and correctly set the ring in the wheel
Freed up engine deck lid release cable
Restored metal button gauges for pre-1974 914s. Swapped these gauges in for a classic look
Powder coated gauge surround satin black
Replaced pedal board with proper brake and clutch pedal stop rubber
New gas pedal
Drive train:
Replaced stripped bolt on engine mount bar
Replaced o-ring and seal at speedometer angle drive
Changed the transmission fluid
Replaced engine firewall bushing, ball socket and transmission bushing for shift rod
New transmission side shifter cap with proper metal tie and rubber boot for shift rod
Rebushed the gas pedal, removed the pedal cluster and cleaned
Brakes and Wheels:
Bled the brakes
Right rear caliper stuck
Upgraded wheels to Riviera Rims with new tires Premium Radial Steel Belted 185/60 R15 that have less than 500 miles on them